As a professional musician, composer, arranger, and educator, I have devoted my life to the art of music, especially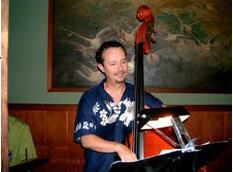 jazz. It is through music that one is able to listen the heart and soul of a people and to create a common consciousness.
My love and passion for music has been with me since childhood. Born and raised in Honolulu, Hawaii, I started taking ukulele lessons as a young child. At age 11, inspired by the innovative and creative style of Jimi Hendrix, I switched to the guitar. After listening to Howard Roberts and Jimmy Smith in high school, I became fascinated with the unique harmonies of jazz, and my musical direction was forever altered. I began to seriously study and play jazz, first on the guitar, and later, on the saxophone and trumpet during my college years at UC Berkeley. My instrumental epiphany occurred, however, when I was working on my Master's Degree in Composition at CSU Hayward, and I fell under the spell of the bass, captivated by its endless possibilities and sounds. The acoustic and electric basses are now my main instruments. I have since studied bass with Carl Stanley, Brian Marcus, Alex Glickman, Frank Tusa, and the electric bassist Kai Eckhardt. I am currently a student of Timothy Spears.
After receiving my M.A., I assiduously pursued my professional career. I began by co-leading the jazz quintet, The Zone, for several years, composing most of the music for the group's first CD Grand Canyon Blue. In addition, I performed on the soundtrack for the film Lifeline, which aired on KQED in December 1999, and spent two years as a member of the Diablo Symphony Orchestra. In conjunction with these projects, I spent time leading my own duo, trio, and quintet and teaching jazz history at Berkeley City College and jazz band/improvisation at UC Berkeley and the Hayward-La Honda Music Camp.
My first solo CD Learning Curve was released in 2003 to a receptive audience at Yoshi's Jazz Club in Oakland, California. I released my second solo CD New Day which premiered at The Jazz School in Berkeley in December 2006. This highly successful concert was recorded for broadcast on KCSM's (91.1 FM) Sunday Night Series. The CD also received significant airplay on KCSM, the Bay Area's premier jazz station, KSDS (Jazz 88) in San Diego, and WGBH (89.7 FM & on-line) in Boston. In 2015 I released my 3rd CD, Song Without Singing. This CD has more of a world music flavor and received a number of very positive reviews (see the "Buzz" page on this website). CD release concerts were held at Peace Lutheran, the Sound Room, and the California Jazz Conservatory. The CJC concert was video taped by Lincoln Adler (see excerpts on the "Videos" page of this website) and was broadcast on Jim Bennett's "In the Moment show on KCSM radio. We received airplay on many stations including KRCC Colorado, WKCR New York, and KUNV Las Vegas, and as far away as SouthAfrica, reaching #70 on the Jazz Week Jazz Chart.
I am currently the leader of The Fred Randolph Quintet (Fred Randolph, basses; Erik Jekabson, trumpet; Sheldon Brown, saxes; Matt Clark, piano; and Greg Wyser-Pratte, drums) and have performed in that capacity at The California Jazz Conservatory, The Sound Room, The Empress Theater, The Impulse Room, The Hillside Club, Octavia Lounge, Bistro Yoffi, Anna's Jazz Island, and Joe's of Lafayette. Moreover, I continue to perform as a bassist for many of the Bay Area's finest orchestras and musicians, including Maria Muldaur, Dan Hicks, Contemporary Jazz Orchestra, Collective West Jazz Orchestra, Sandy Cressman's Homenagem Brasileira, Michael Smolens's Kriya, Bobbe Norris and Larry Dunlap, Kenny Washington, Marcos Silva, Michael O'Neill, Orquesta Dharma, Ian Carey Group, Scotty Wright, Dmitri Metheny, Barry Finnerty, Bob Kenmotsu, Rana Farhan, Calvin Keys, Charged Particles, Melanie O'Reilly, Al Molina, Melanthium, Terrence Brewer, Akira Tana, Carla Helmbrecht, and Frank Martin. I have also played at the World Music Festival in Shanghai, Vallejo Jazz Festival, San Jose Jazz Festival, and Fillmore Street Jazz Festival.
Recently, I contributed to the sound track of the movie "Love Twice" by the great independent film director Rob Nilsson. Attending the premier at the Mill Valley Film Festival was a once in a lifetime experience. I am currently collaborating with Rob on his new film "Fourth Movement" and hope to be doing more work in the film world.
Education continues to be an integral part of my musical life. I have been honored to serve as Director of Instrumental Music at Bishop O'Dowd High School in Oakland for the past several years. In addition, I have been teaching courses in music history at Berkeley City College as well as piano classes at Contra Costa College. Previously I was director of the The Downbeat Award Winning Groove Merchants, at Stanley Middle School in Lafayette. Periodically, I have given courses in Musical Notation at The California Jazz Conservatory and, time permitting, I enjoy private teaching. I was thrilled to have my article "Chart Notation: The Essential Toolkit" published in the July 2016 issue of Downbeat Magazine.
Throughout my life, I have found my musical experiences to be deep and rewarding. I am constantly seeking to refine and expand my knowledge as a musician and, hopefully, touch somebody's soul.